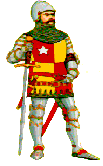 Hundred Years War
Strategy Guide and Game Docs
This is the enhanced version of the current Strategy Guide and Game Docs. It features a search capability and a structured index for the game menus and rules. The index for the overlordships, fiefs, player characters and Strategy Guide will be completed as soon as possible. We are also working on the appearance of this site. Please report any problems with this web to HYWDuncan.
This is a Help file in the format of a web page, like any other you encounter when using the World Wide Web. Just click the left mouse button when the cursor is on any highlighted word or phrase, and you will be taken to a new subject. If you are new to HYW, click on QUICK START . If you are entering a new game, click on Preliminaries . Otherwise, click on any of the items above.
What is the Hundred Years War Online Game
Structured Index
This index is arranged by subject type
Guide to Menus
Guide to Rules
Guide to Strategy and Tips
Player Characters, Overlordships and Fiefs
Glossary
Alphabetical Index
We are building an index of the game rules and strategy guide information organized alphabetically. We are doing it a bit at a time, so let me (jfdunnigan@aol.com) know via email if you see anything you want or any errors that need to be fixed. We will keep working on the index and the Strategy Guide forever and ever.
Anathema (players throwing players out of the game)
Archbishops (and special tax)
Army Maintenance
Army Management
Army Status
Bailiff
Call To Arms
Camping ("buring days")
Combat, and How to Prevail on the Battlefield
Court Functions
Diplomacy
Dirty Deeds Described
Dirty Deeds, and Combat Options
Disband Army
English Strategy
Family Matters
Fief Details (including data on all fiefs at game start)
Fief Management
Fief Management Menu
Fief Rebellion, Quell
Fief, Examine
Financial Activity
Fleet, Assemble
French Strategy
Gamble
Game Update
Glossary of Terms
Heirs
Herald Functions
Heresy, How to Create Your Own
Historical Background
Household Affairs
Interactive Court
Jousting
Keep Level
Kings and Crown Princes
Law and Order
Location (where you are)
Lock Out Option
Loyalty of a fief and how to deal with it
Manager, remove as manager of a fief, or quit if you are the manager
Marriage
Menus for the Text Interface
Muster Out
Official Acts
Overlord Titles (stripping and transfer)
Personal Affairs
Pillages and Related Mayhem (including probability tables)
Player Position Data
Population of the Kingdoms
Purge
Recruit In Current Fief
Scoreboard
Siege, How to
Skill Information
Skills and Characteristics
Soldier, Transfer
Soldiers, Pick Up Responding To Call To Arms
Soldiers, Pick Up Transferred Soldiers
Standing Order
Stature
Strategy Tips
Surplus (profit from your fief)
Travel, Text Menu
Treasury
Winning the Game
Hundred Years War (HYW) Game Documentation, as of March 1998. Editor and Principal Author: Jim Dunnigan. Research and Contributing Author: Al Nofi. Game Software Design and Engineering: Dan Masterson. Contributing Editor: Kate von Mayr. Editor Emeritus: Dennis Stalzle.